The initiative "Protect, Support, Empower Human Trafficking Victims in Romania – PSEV", implemented by a Romanian NGO ASSOC, focuses on preventing Ukrainian refugees from becoming victims of human trafficking. To identified trafficking victims, they provide emergency protection and redirection to specialised medical assistance, accommodation, food, and transport. They also offer appropriate psychological counselling, social investigation, legal counselling, and other assistance. In addition to direct interventions at the border, the project has a dedicated website – https://stoptrafic.ro, and an emergency phone number to reach the team in case of a possible victim or even an identified victim of human trafficking. Finally, the project team also holds direct meetings with Ukrainian refugees at their accommodation and organises seminars for people directly involved in combatting human trafficking around the country.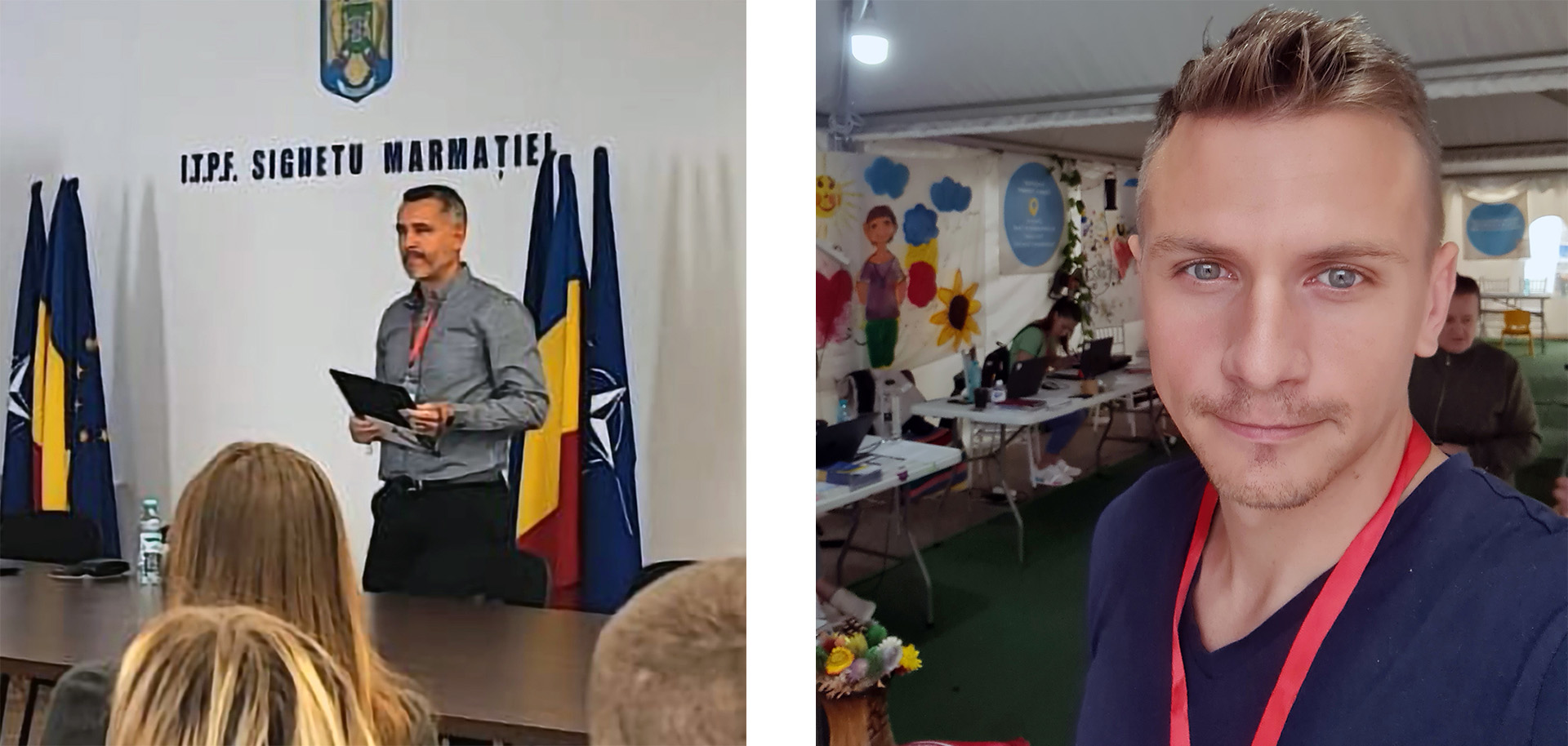 Marcel Puiu is the Project manager with ASSOC and has over 20 years of experience preventing and combatting organised crime, including human trafficking. Fabian Razvan works as an Implementation officer. He holds a degree in Policing Studies from a UK university and has experience working on human trafficking and terrorism issues. He has been volunteering with the initiative from the very start.
We talked to them about their daily work and what drives them to fight human trafficking daily.
___
What is your role/job within this project?
Marcel: As the manager of this bilateral initiative, together with the implementation team, I ensure that the proposed objectives will be reached. So far, we have managed to directly prevent at least six cases of potential victimisation and inform over 1,900 displaced Ukrainians under the temporary protection of the Romanian state. We raise awareness of the dangers of human trafficking and educate the refugees on ways to avoid becoming victims of human trafficking.
On a practical level, my days are never the same. Some days I am in the field with my colleagues, working to ensure the correct and smooth operations of the initiative. On other days, I focus more on working with other institutions in Romania to combat human trafficking, or I am at the office supporting the team's needs.
For example, a few days ago, we received a red flag about a potential victim that needed support. Together with my colleagues, we met with the victim and provided them with the necessary support. In fact, in this case, we managed to get help from other NGOs and institutions in the Republic of Moldova to provide the best possible support. Due to the issue's sensitivity, I can't divulge further details.
Fabian: Most days, I am in the field. I talk to Ukrainians who cross the border in Sighetu Marmației, trying to inform them about the dangers of human trafficking and educate them on how to spot possible signs that might lead to them becoming a victim.
Occasionally I visit Ukrainians that already live in Maramureș county. I observe their living conditions and inform them of the risks of human trafficking, encouraging them to reach out to us or the police if they know or see someone in danger of becoming a victim.
We also organise seminars for people working with refugees at all Romania-Ukraine border crossings. I think it is essential to share experiences and knowledge because we face similar situations every day.
Why do you do this job? What rewards you in this role?
Marcel: I want to make available everything I know, what I have gained over time, to save people from being exploited in any way. The satisfaction is immeasurable when, thanks to work done, you look into the eyes of a person who is now safe and see a light that shows that they are on the way to restoring their dignity.
Fabian: The reward is all the appreciation we get from the people we help.
I have been actively volunteering since I was very young, so I understand how much a little help can change someone's life and spirit. That's what drives me; I find happiness when I can make people around me happy.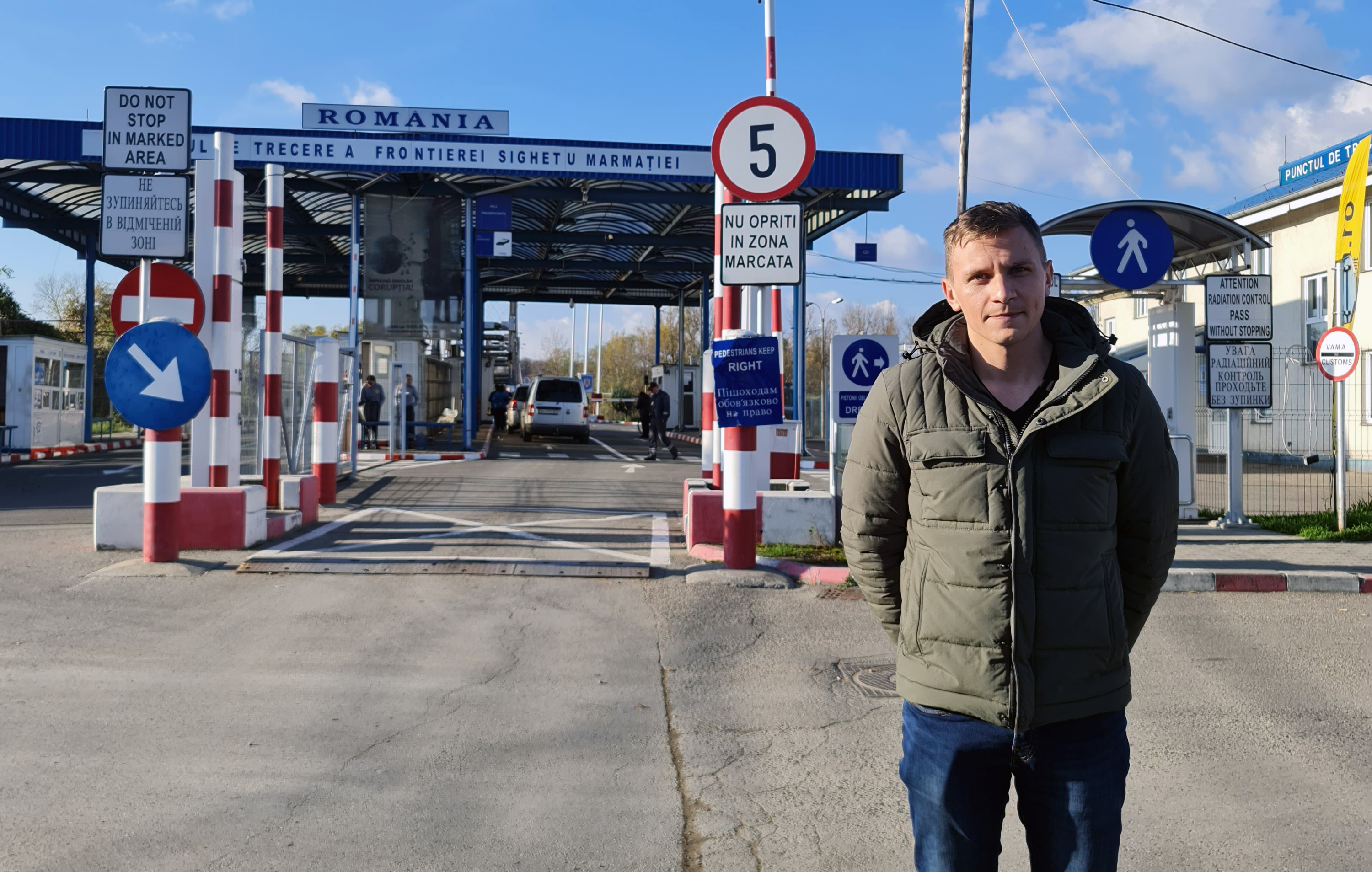 So, when all of a sudden, many people were in need and possible danger, I knew I had to help. Because of my background, I was much better suited for a job like that than many others. So, I took paid leave from work and volunteered at the border until I felt the situation was improving.
How can you identify potential human trafficking victims?
Marcel: In general, the profiling is done on a case-by-case basis. We identify specific indicators according to the particular situation of the potential victim. In some cases, the first contact is made while working in the field; in others - through reports from other people or entities with whom we are in contact.
For example, the Assoc implementation team saved a Ukrainian woman running from the fighting in Kharkiv. She was going to Greece. All indications showed that upon arrival, she would be exploited sexually. Thanks to our intervention, she chose not to move to Greece and received the necessary counselling and support thanks to the bilateral initiative.
Fabian: The way I see it is that the fact that most of them are leaving the country for the first time, they don't know a second language, and they are primarily women with kids makes them a target for the traffickers. But it's not always the case. Human trafficking, in my view, is a crime that adapts and evolves with the situation.
I am sure our work prevented many Ukrainians from becoming human trafficking victims. For example, I have personally identified two older people who were victims of human trafficking during one of my visits; they managed to escape. Of course, due to the sensitive nature of the case, I cannot disclose any more details.
Many Ukrainian citizens, especially women, are contacted online and offered hospitality jobs in countries like England, Germany, Spain, and France. The offers exceeded the average pay for that job 2-3 times, which is always alarming.
Who are the typical traffickers? Is a general description possible?
Fabian: The most challenging thing in this field is that, ultimately, anyone can be a trafficker. Since the start of the war in Ukraine, trafficking has become a crime of opportunity… For example, we can take a cigarette smuggler who switches to smuggling humans. From there on, human trafficking is just a short step away.
Marcel: As a rule, human traffickers are well organised, and at least two people are involved in a particular criminal activity. Anyone can be a trafficker, regardless of age or gender – we see both adults and minors, male and female. We categorise them based on the type of exploitation they are involved in - sexual, forced labour, begging, or organ trafficking.
Who are your main partners helping identify and ensure the safety of potential trafficking victims?
Marcel: I think NGOs must work with authorities. This is also set out in the law when it comes to the prevention and combatting of human trafficking. But without cooperation with authorities, working in this field for an NGO would be virtually impossible. State institutions, civil society, NGOs, and volunteers must collaborate as best as possible in this struggle. As we say in Romania, "where there are two, the power increases".
We have excellent connections and cooperation with the Romanian Border Police and the Sighetu Marmației Border Police Inspectorate, who, in turn, work closely with the Ukrainian police. We also work with state authorities directly involved in preventing and combating human trafficking. Among them are the Directorate for Investigating Organized Crime - Maramureș Territorial Office, Maramureș Organized Crime Combat Service, and Maramureș County Police Inspectorate.
What is the hardest thing in your job?
Fabian: I think the hardest thing is when the topic alarms people. Or on the other hand, many don't believe they would be at risk of human trafficking.
What also upsets me is that we are limited in resources – I wish we could be present at every border crossing and spread awareness among more people.
Marcel: It's not easy obtaining sufficient funds to ensure adequate protection services, good support and specialised assistance and culminating. Ultimately, providing such services, we help restore the victim's dignity.
The project is running until February 2023. What's next?
Marcel: There is a lot to do in this field, and we don't want to, nor can we stop. We are certainly determined to continue because the results already confirm the necessity of our work. We have identified several additional services that we could provide in the future to ensure even better protection for potential possible victims or victims of human trafficking. More funding means we can help shift the balance from nice words to concrete actions in the interest of the human trafficking victims, protecting vulnerable Ukrainian citizens who are being exploited by traffickers daily.
___
Since the start of the war in Ukraine, Iceland, Liechtenstein and Norway have allocated over 11 million euro through the EEA and Norway Grants to help the refugees from Ukraine. The funds support initiatives like "Protect, Support, Empower Human Trafficking Victims in Romania – PSEV", needed to help the neighbouring countries address and facilitate the handling of the growing humanitarian emergency.
Read more about how the EEA and Norway Grants are helping Ukrainian refugees in