The past year was unlike any other, with the entire continent coming to a grinding halt. Amidst the global pandemic, the EEA and Norway Grants continued to support communities across Europe, reducing economic and social dis parities. Let's take look at the results and stories behind the Grants, taking stock of the achievements in the 2014-2021 funding period so far.

From saving bees to promoting international police cooperation: 2014-2021 in a nutshell
The honeybee population in Europe has declined significantly due to changes in their natural environment. The BeeConSel project is working on a tailor-made mating control system for bees, using scientifically proven tools, and knowledge and experience from Norway and Sweden. The goal is to increase the efficiency of breeding programmes in the selection of traits and ensure higher survival rates for the local honeybees. The project is funded through the Fund for Regional Cooperation and implemented by partners from Slovenia, Croatia, North Macedonia, Norway and Sweden.
In Romania, the General Inspectorate of Romanian Police plans to set up a 'Hate crime unit' to handle hate-related crime and investigate racially motivated attacks against Roma and other minorities. To build an effective unit, the Romanian Inspectorate and the Oslo Police District's Hate crime unit will join forces. 'The partnership with the Oslo Hate crime unit is an added value to our project. We can not only draw on their experience when establishing a similar unit within our Criminal Investigations Directorate but also directly implement their solutions to possible challenges that may arise for us. It's the first project in this field for us and, hopefully, not the last. Any experience we can borrow and then implement makes a huge difference,' says Police chief commissioner Ciprian Mirion.
These are just two examples from over 1 600 projects that will receive over €890 million. Iceland, Liechtenstein and Norway plan to allocate a total of €2.8 billion by 2024. But with three years still left to implement projects and achieve results, the Grants are steadily moving towards and beyond set targets. In the current funding period the Grants have already helped:
580 000 + people take part in activities organised by civil society organisations;

create 600+ jobs;

890+ young people start their businesses
The long-term effects on Europe of the COVID-19 pandemic remain to be seen. The hope is that with a successful pandemic response, we can begin to rebuild lives and livelihoods. We are halfway through the current seven-year funding period of the EEA and Norway Grants. We, therefore, anticipate that the pace of implementation will accelerate over the next three years, and we will see even more impressive results,' said in their joint statement Ine Eriksen Søreide, Minister of Foreign Affairs of Norway, Guðlaugur Þór Þórðarson, Minister of Foreign Affairs of Iceland and Dominique Hasler, Minister of Foreign Affairs of Liechtenstein.
In 2020, the Donor States signed the cooperation agreements with Hungary, thus closing the negotiation phase and kicking the implementation into high gear. A total of 96 programmes are currently under implementation across all the Beneficiary States. 15 programme agreements were signed in 2020, offering even more opportunities for potential project promoters and project partners to implement their ideas. Since 2017, a total of 287 calls for project proposals have been launched, and 115 of these in 2020 alone.
In 2020, the Donors selected 19 projects that will be supported under the €31.89 million Fund for Regional Cooperation. This Fund is unique as it is not limited to the 15 Beneficiary States involved in the EEA and Norway Grants, but also open to some non-EEA countries.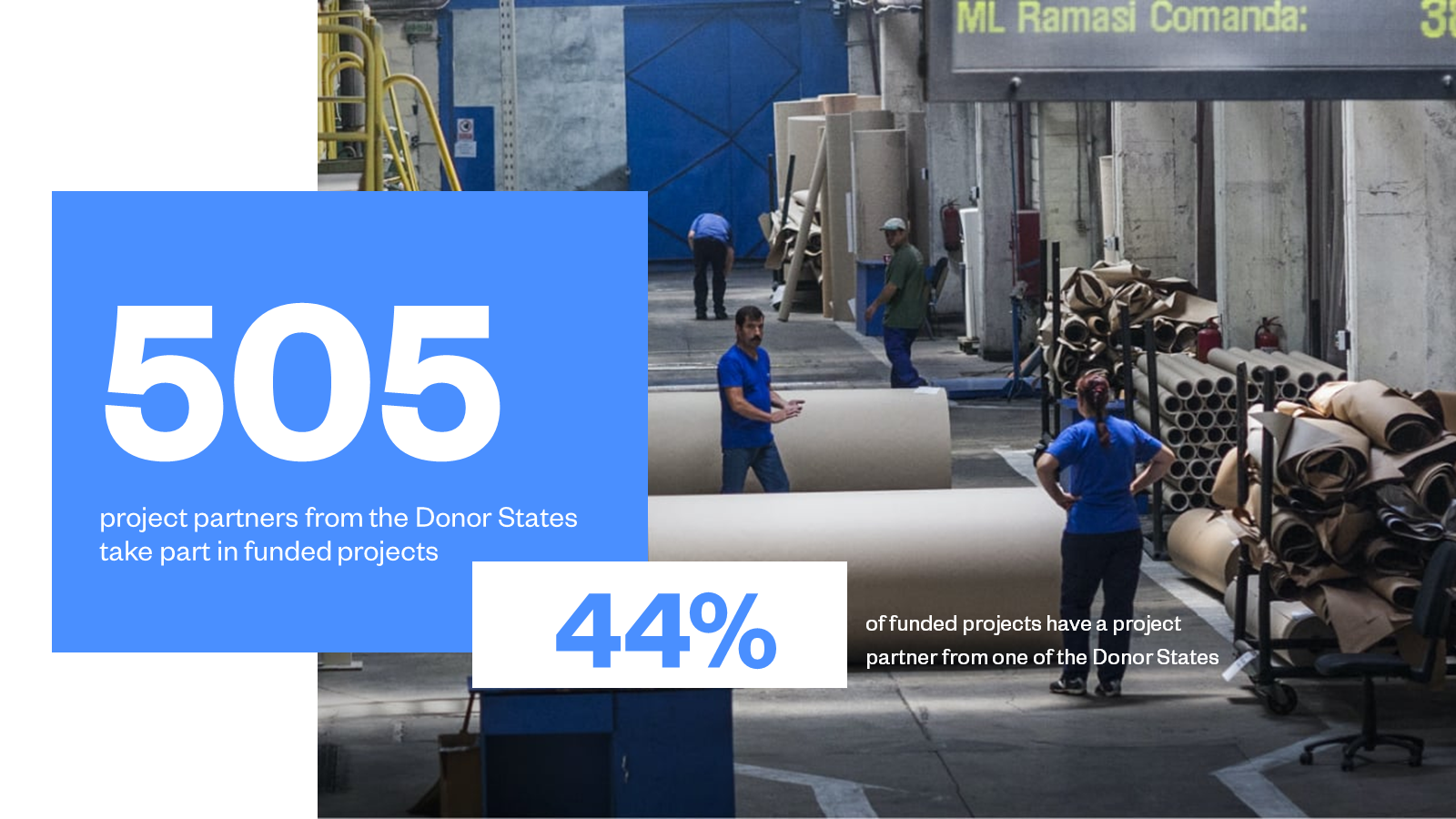 Cooperation between organisations in Beneficiary and Donor States is one of the main pillars of the Grants. So far, a total of 505 project partners from Iceland, Liechtenstein and Norway are involved in funded projects. To encourage new partnerships and collaboration, matchmaking events are organised to connect project promoters from the Beneficiary States with project partners from Iceland, Liechtenstein, and Norway.
Background
The EEA and Norway Grants represent Iceland, Liechtenstein and Norway's commitment to stimulate more sustainable and inclusive growth in Europe, promote bilateral cooperation and tackle shared challenges. The funding period 2014-2021 represents the most ambitious effort to date by the EEA/EFTA States resulting in a total budget of €2.8 billion dedicated to strengthening bilateral relations and reducing social and economic inequalities in Europe.
The Grants are channelled through programmes that reflect the priorities of the European Union. Each Beneficiary State has several programmes which address the most relevant issues in different areas.
Discover more – explore the Status Report 2020!