Antisemitism is worryingly on the rise in Europe and beyond. More than 10 incidents of hatred are committed every day, including vandalism, wrecking, graffitiing, desecration of graves and propaganda, half of which take place in Europe. In addition, the increased use of social media has given more space for online hate and for new forms of online antisemitism.
Education is key to create an inclusive society that is based on equality, respect, and is free from antisemitism and any form of discrimination. The POLIN museum in Poland has become a hub where young generations dive into the rich and dramatic history of Polish Jews to learn how to respect our differences – and prevent mistakes from the past happening again.  
Nearly 10 years ago, the POLIN Museum of the History of Polish Jews opened its doors to the public. Built on the site of the former Warsaw Ghetto where more than 460,000 Jews were imprisoned before being sent to Nazi concentration camps and mass-killing centres, this postmodern museum made of glass, copper and concrete is now educating young generations from all over Europe and beyond to prevent mistakes from the past from happening – ever again.  
"To work in education and combat those dark moments of our history and negative social processes, we need to educate and inform about history in general. Our large-scale projects are a basis for the smaller ones concentrated on particular groups. These programmes create a background for direct actions. That's why the Jewish Cultural Heritage Project is such a complex and effective tool in education."
Banach Krzysztof, Chief Specialist for Cooperation with Norwegian Partners – Education Programme – Polin Museum. 
The POLIN museum carries out a wide array of educational programmes to reach youth, educators, specialists and the general public across the globe to recover the past and share the future. The EEA and Norway Grants have supported the POLIN museum under the 2009 – 2014 funding period. Iceland, Liechtenstein and Norway continue supporting the museum with a €10 million grant in the current funding period. In 2017, the museum received the EU Prize for Cultural Heritage / Europa Nostra Awards by the European Commission for implementing the first edition of the "Jewish Cultural Heritage" project.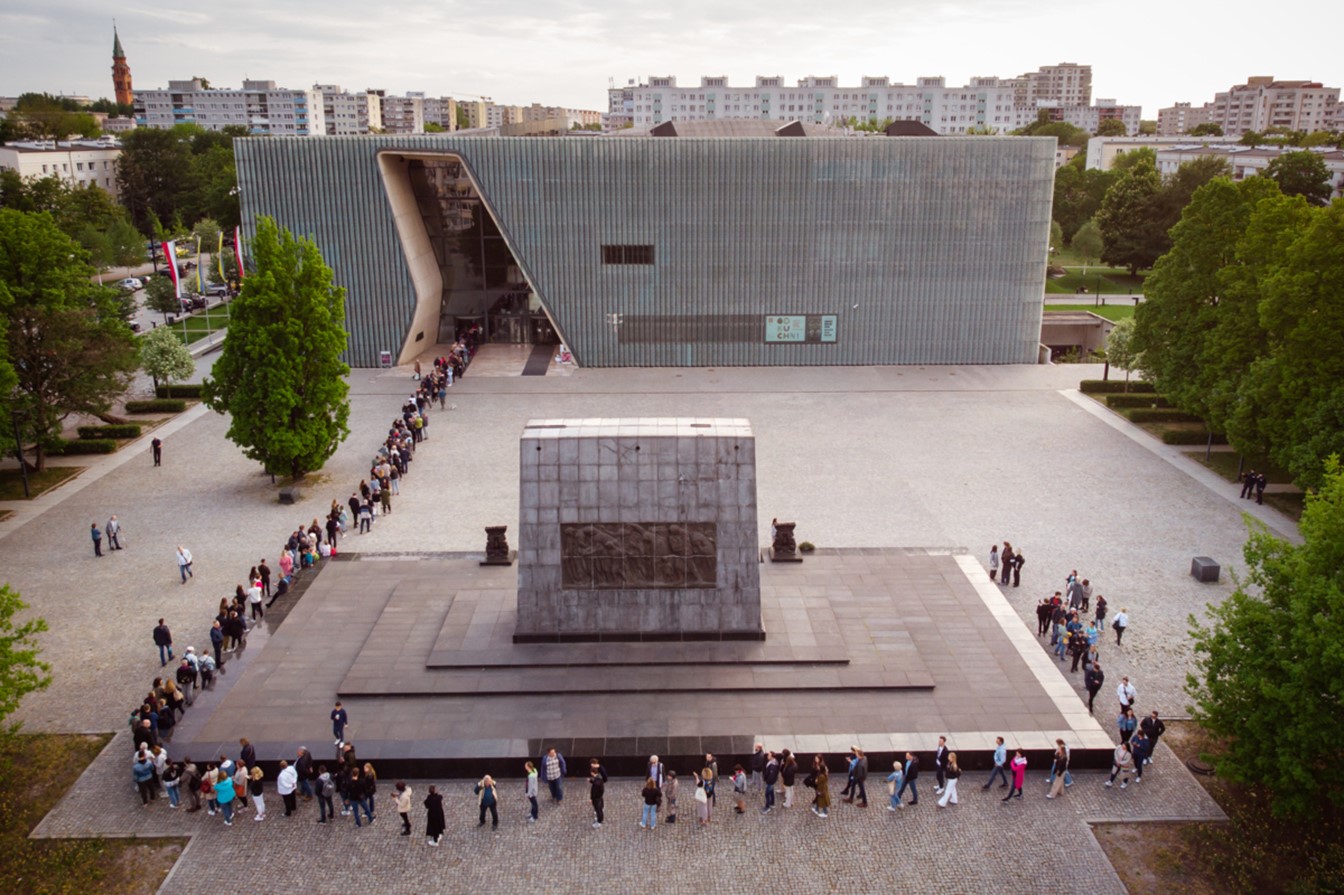 People queuing to visit the exhibition 'What's cooking' at the POLIN Museum as part of the Jewish Cultural Heritage project. @POLIN Museum - Maciek Jaźwiecki
"We are very proud of this award. It's a great motivation for us to work even harder to achieve our goals. Exposure to the rich and dramatic history of Polish Jews provides more than historical education: it teaches respect for people from different ethnic and religious backgrounds, strengthens the resolve to fight xenophobia, and prepares young people for life in today's diverse society,"
says project coordinator Łucja Koch.  
Under the "Jewish Cultural Heritage" project, the POLIN Museum carries out a wide range of activities – more than 5,000 events are taking place in Poland and Norway by 2024 expected to attract over a million participants.  
From the classroom to the museum: connecting students from Norway, Poland and Germany  
Prejudice, antisemitism, hate speech are not tabu topics anymore. At least not for Anna Reinert (Germany), Signe Wohlfeil (Norway) and Aleksandra Mikołajczyk (Poland). These three students participated in the 7-day workshop that took place at the POLIN Museum in Warsaw at the end of October. Through the museum's collections and the main exhibition, the students had to develop one concept (educational material, campaign, etc.) on the topic of racism today and its future perspectives.  
After more than a year of preparation, students, experts and teachers from Freie Universität Berlin (Germany), University of Warsaw (Poland), SWPS University of Social Sciences and Humanities (Poland), Volda University College (Norway) and University of Bergen (Norway) gathered together in Warsaw to exchange perspectives and ideas within their fields of expertise. Anna, Signe and Aleksandra come from very different background and studies, but they had the chance to share their perspectives and experiences sitting together at the same table.  
"I can apply knowledge from different fields that connect my studies on social psychology. For me that's a big advantage of this workshop – it's interdisciplinary and multinational. It connects our different perspectives and points of view, and different experiences. The five people in our group bring their scientific fields and try to find a language that we can understand each other," says Aleksandra, who studies a master's in psychology at the University of Warsaw. "This workshop gives a unique opportunity to have an open discussion on antisemitism. It's kind of a tabu topic, you don't really talk about it. This gives us room to openly discuss about it and learn about it," she adds.  
Signe is Norwegian and currently studying design at the University of Bergen. "I've been taught about the Holocaust at school but that was it. It's super important for me to learn from the POLIN museum. I have been on workshops before but this one is more focused and it is really valuable to me to be at the museum, with their staff, and hear their perspectives." 
The next student seminar within this project will take place at the Falstad Centre in Norway next year. An online publication, planned for the end of 2023, will share the results of the workshop.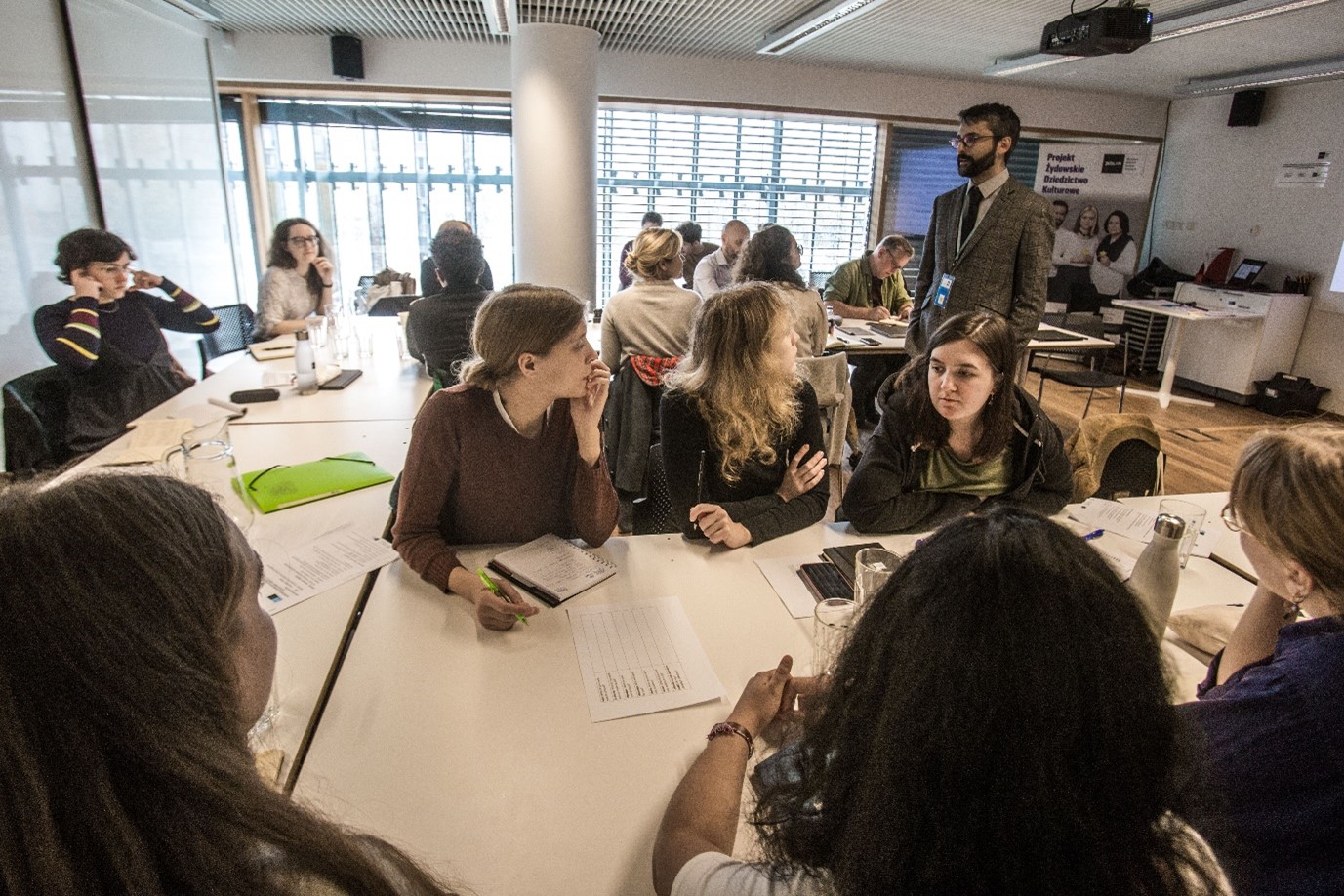 Students discuss in groups as part of the workshop in Warsaw on 24-28 October 2022. @POLIN Museum - Magda Starowieyska
Fighting antisemitism with education at the core   
The workshop in Warsaw was just one among the thousands of activities conducted by the POLIN museum under the "Jewish Cultural Heritage" project. The project is also educating students from primary schools and high schools across Poland about the culture and history of Polish Jews through online educational workshops, new educational tools, mini-museum collections, as well as theatrical activities. These helps young generations shape attitudes opposing antisemitism, xenophobia and racism.  
But students are not the only ones benefiting from the project activities. Teachers from schools across Poland, Norway and beyond are also gaining extra knowledge on teaching history and culture of Polish Jews. Through international conferences, study visits at the POLIN museum, seminars, workshops and a growing network of teachers and experts, this project also gives teachers the opportunity to exchange experiences in historical, intercultural and civic education. "This kind of workshops are broadening our perspectives in different disciplines such as design, history, psychology. Some of the most interesting results of this workshop is that students have to force themselves to think differently," says Thomas Lewe, Professor from the Department of Media and Journalism at Volda University College, who participated in the workshop.  
Currently, one European in 20 has never heard of the Holocaust. The "Jewish Cultural Heritage" project funded by the EEA Grants is doing its part to change this figure – but there is more to be done. In October 2021, the European Commission presented its first ever EU strategy on combating antisemitism and fostering Jewish life. "Antisemitism is incompatible with EU values and with our European way of life. This strategy – the first of its kind - is our commitment to combat it in all its forms and to ensure a future for Jewish life in Europe and beyond. We owe it to those who perished in the Holocaust, we owe it to the survivors and we owe it to future generations,." said Margaritis Schinas, Vice-President for Promoting our European Way of Life, when the strategy was presented.  
Iceland, Liechtenstein and Norway continue to stand up against antisemitic hate in Europe, project by project  – for a future where everyone is treated with dignity, humanity and respect.  
Want to know more about other projects we support in Poland? Find out more here.