The Midterm evaluation examines how the green programmes funded by the Grants are addressing challenges related to climate change, environment and energy. What are the success factors and obstacles of the green programmes supported? Is bilateral cooperation an added value? How can this be enhanced in future programmes? Here are the key findings of the evaluation.  
The EEA and Norway Grants are dedicated to making a difference for a greener Europe by funding innovative projects that will have a lasting positive impact on our environment.Tori Hoven, Country and Programmes Department Director (EEA and Norway Grants)

 

 

Findings 
Good complementarity between the EEA and Norway Grants and EU funding 
The evaluation shows that the green programmes are well aligned with the objectives of the EU policy agenda, as well as Beneficiary States' national priorities. The EEA and Norway Grants programmes bring added value for strategic priorities and thematic areas such as exploring and developing geothermal energy, improving energy efficiency and promoting the application of circular economy.  
The evaluation also finds that programmes have helped ensure compliance with emerging EU environmental legislation, especially within the areas of environmental protection, air and water quality and waste management. Innovation and 'first of their kind' projects are of particular importance to the EEA and Norway Grants. The findings show that there are plentiful examples of mission-oriented innovation projects, where especially new environmental technologies have been deployed to solve a particular local or global problem.  
Bilateral cooperation 
As climate change and environmental degradation are intensifying, cooperation to accelerate the green transition is more important than ever. The evaluation shows that bilateral cooperation brings significant added value and the utility of the cooperation lies in nurturing and sustaining partnerships. The findings also refer to the potential for more strategic use of the EEA and Norway Grants in the next funding period to define a strategic vision and objectives for bilateral cooperation.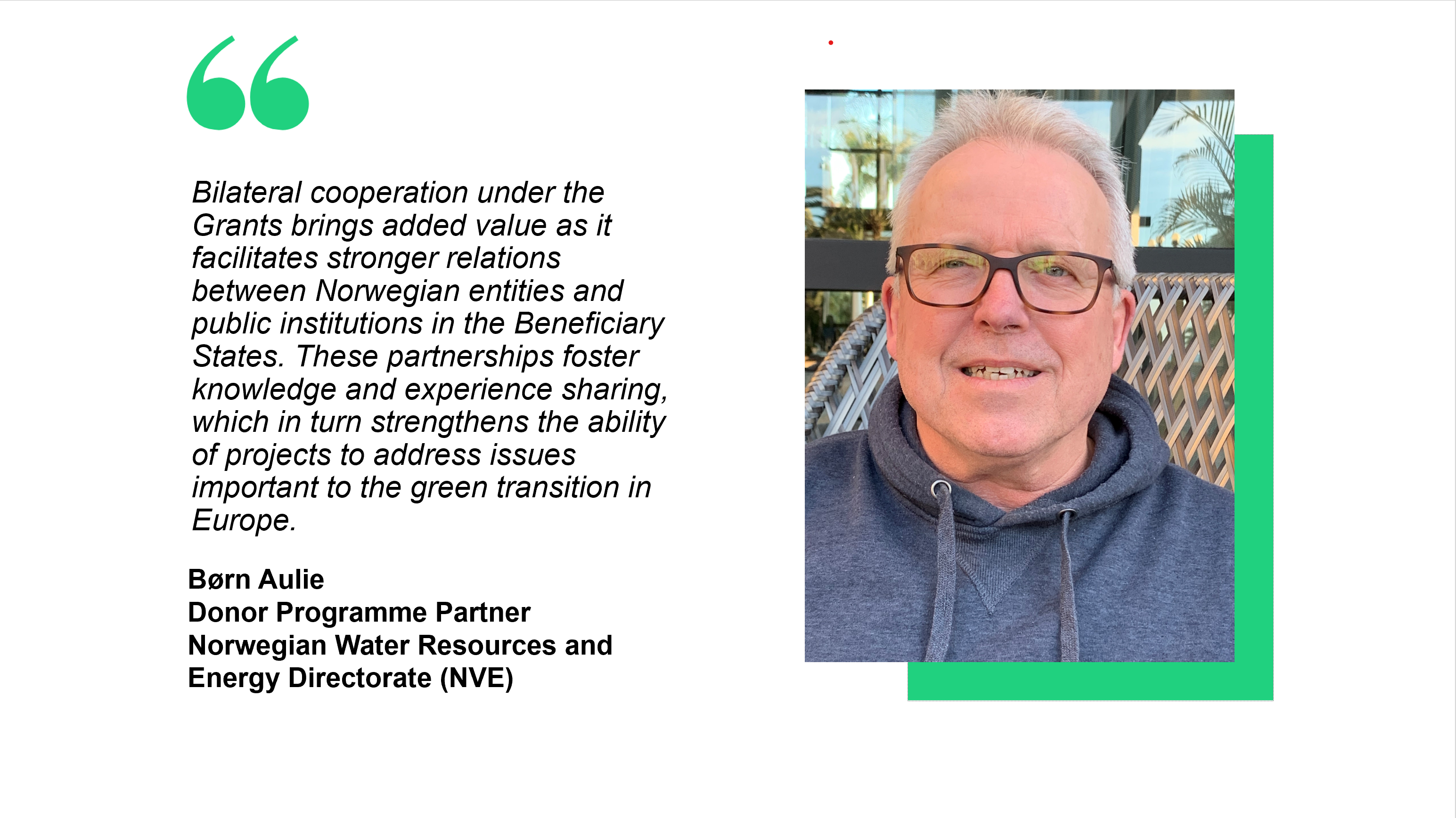 Background 
Through the Grants, Iceland, Liechtenstein and Norway provide more than €426 million to support a wide range of projects to create a more sustainable, cleaner and better future for all. The supported initiatives cover areas that are of long-term importance to the Grants and of particular interest to the European Green Deal. This includes projects in the fields of:  
The Financial Mechanism Office (Secretariat of the EEA and Norway Grants) commissioned an external evaluation to explore the coherence, efficiency and potential effectiveness of the ongoing green programmes under the Grants. The external evaluators have examined 15 programmes with a total budget of €426 million over the funding period 2014-2021. These programmes have an important role in the commitment to reduce inequalities in Europe and to strengthen bilateral relations. The key objective of this midterm evaluation is to guide the implementation of current Grants and future programming. The evaluation was carried out by CREDA Consulting and Blomeyer & Sanz and it was published on 1 February 2023. 
Want to find out more? Read the full evaluation here.