Images of a mother bird feeding her chick a cigarette butt thinking it was food, or of a seahorse toting a q-tip as if it was a treasure, have helped galvanize the global truth about waste and where it ends up.
Over one million plastic drinking bottles are purchased every minute around the world. Half of all these organic polymers produced globally are designed for one-time use. Maya Ruseva, Project Manager for the Implementation of Marine Waste Reduction Measures in the Bay of Burgas project emphasizes that reducing waste is an undertaking that relies heavily on education. In the extensive Burgas waters, rubbish is dropped or dumped for expediency or other motives. Breaking the cycle starts with learning.
"I believe that the society in Burgas can be a role model for Bulgaria in having their shoreline the cleanest. They have all the tools for the project, they have the enthusiasm and will. Now it is in their hands to lead the way."
Tómas J.Knútsson, Blue army in Iceland - Donor project partner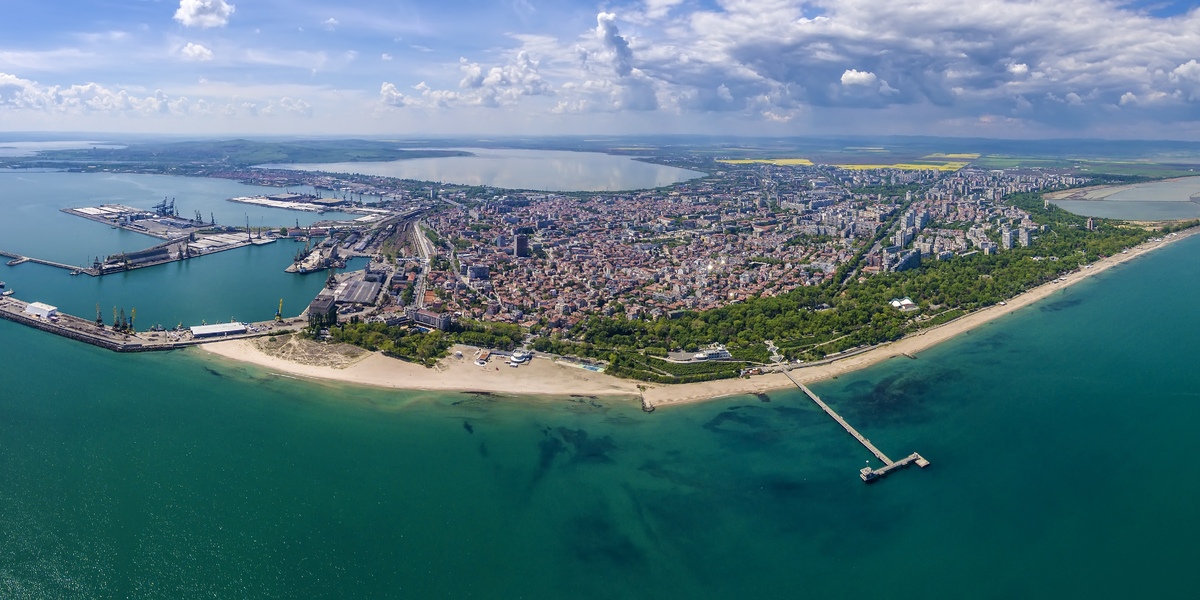 A simple, plastic wrapper is a responsibility. If the person unwrapping a popsicle uses a waste bin instead of tossing it randomly, that is a step. Reducing and eventually preventing damaging and dangerous waste from becoming part of the problem is what 42-year old Ruseva speaks about, the micro and macro of the project that aims to create a sustainable future for reducing waste.
Increased public and personal awareness, along with citizen responsibility, are the focus to help reduce, and prevent further marine litter.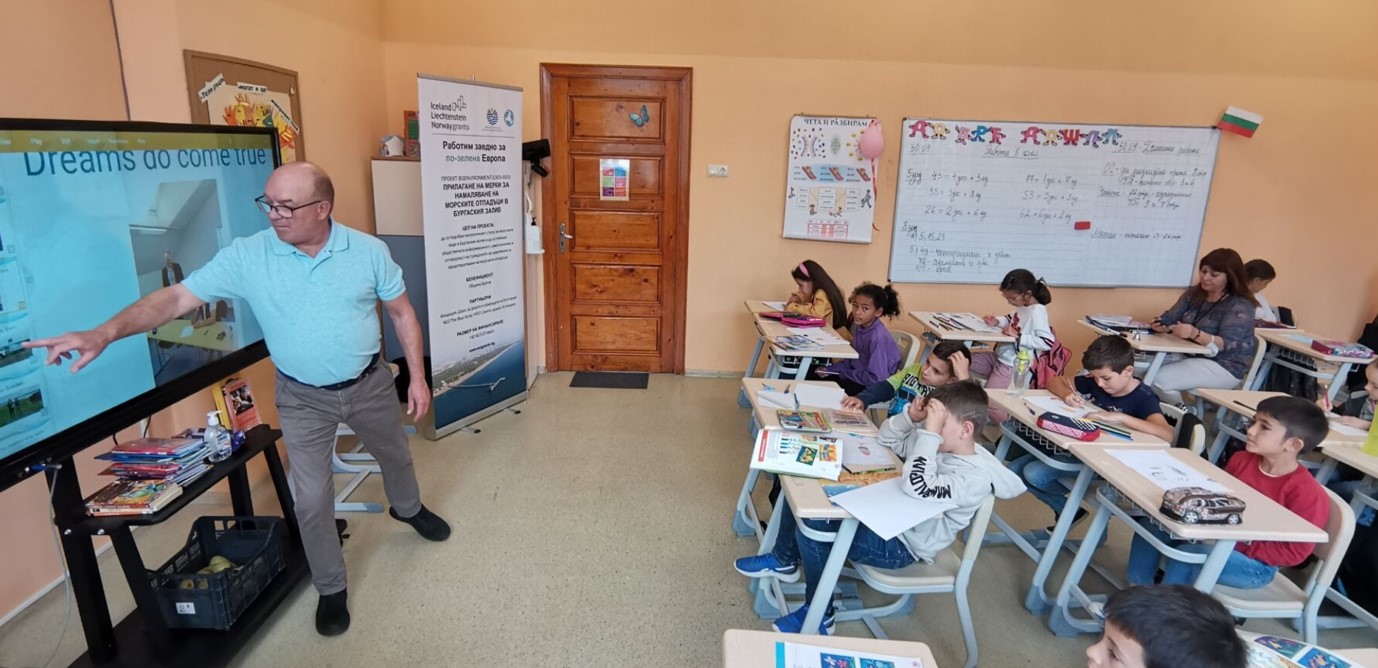 What are the educational campaigns focused on and whom do they reach out to?
The educational campaigns are aimed at three different target groups in Burgas schools. To achieve authentic behavioural change and build responsibility awareness, most of the measures are needed to target adolescents. However, younger children are important agents of social change in society. All of them together represent future citizens and consumers who will develop attitudes and make decisions that will inevitably affect the environment.
How does the project reinforce the educational campaign?
Together with the project partner from Iceland called The Blue Army and the foundation Chance for the Children and Nature of Bulgaria, trainings were conducted in 21 primary schools, 8 vocational high schools and 5 high schools.
Throughout the classes, the students were introduced to good practices thanks to the 25-year experience of the Blue Army. They were shown a presentation explaining and visualizing different initiatives for cleaning ocean coasts. The students participated actively within the discussion and shared their experience and views on how to participate in clean-up initiatives at the Bay of Burgas.
"When I was offered this great opportunity to come to Burgas and give lectures to the schools there I was thrilled. I have been giving lectures on ocean literacy for schoolchildren in Icelandic schools for over two decades. As a former diver of 37 years in Iceland and abroad I had gained a knowledge of understanding the real problem that is facing our oceans realm. We must work as a team."
Tómas J.Knútsson, Blue army in Iceland - Donor project partner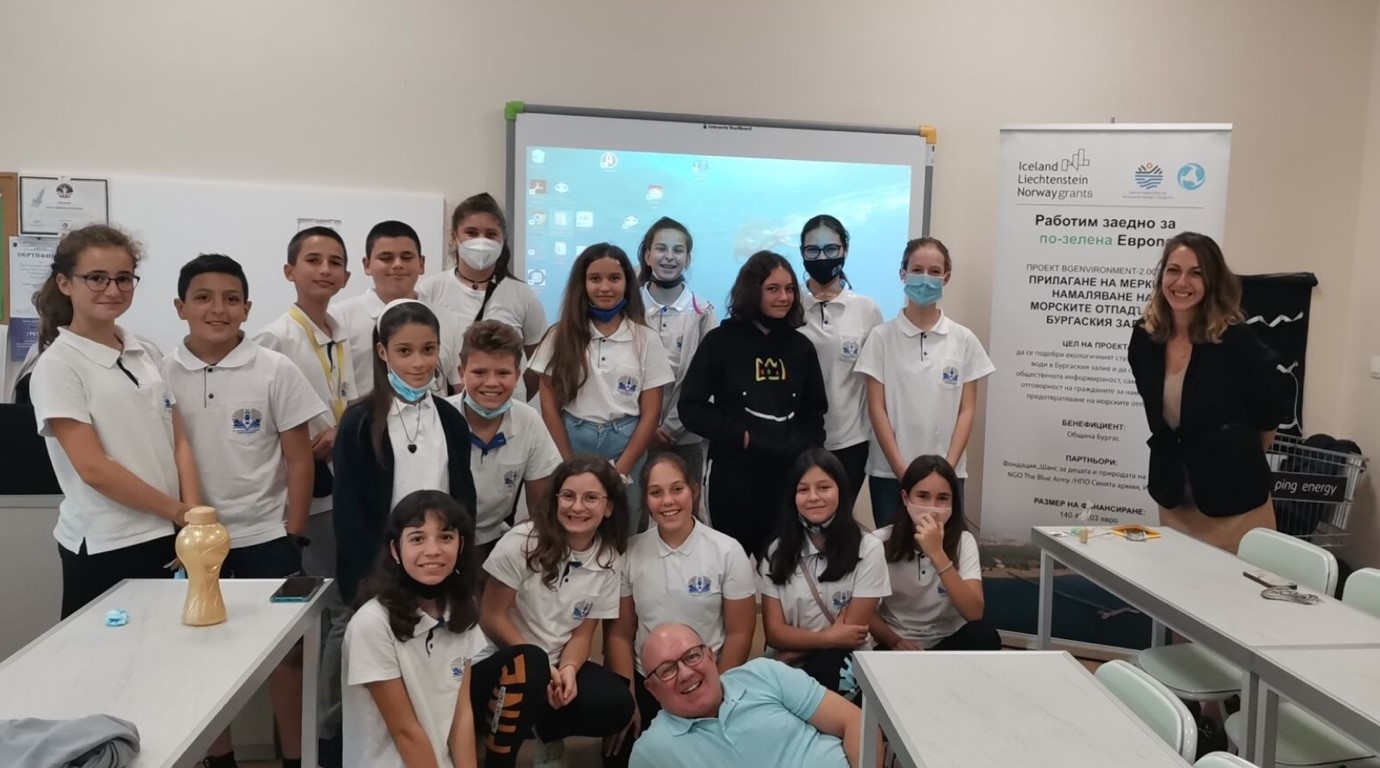 How will this be approached and accomplished?
A number of trainings in schools in the Municipality of Burgas will be at the core. Volunteers who share the cause and value of more responsible behaviour towards natural resources will usher in the task. Trainings provide an opportunity to guide peers. In the future, these young people will have the role of 'multipliers', carrying forth ideas and activities to protect marine environments among their relatives and friends.
Find out what Alexandra, 17 years old, is doing to prevent our planet from "becoming a garbage bin"
Through a waste fishing initiative — a competition for the local fishing community —branded bags were distributed to collect waste taken with each catch. Any member of the local fishing community could take part in the initiative by boat. Fishing for Waste lasted for over a year and the winner received a prize after the waste was weighed and disposed of in a specially placed container.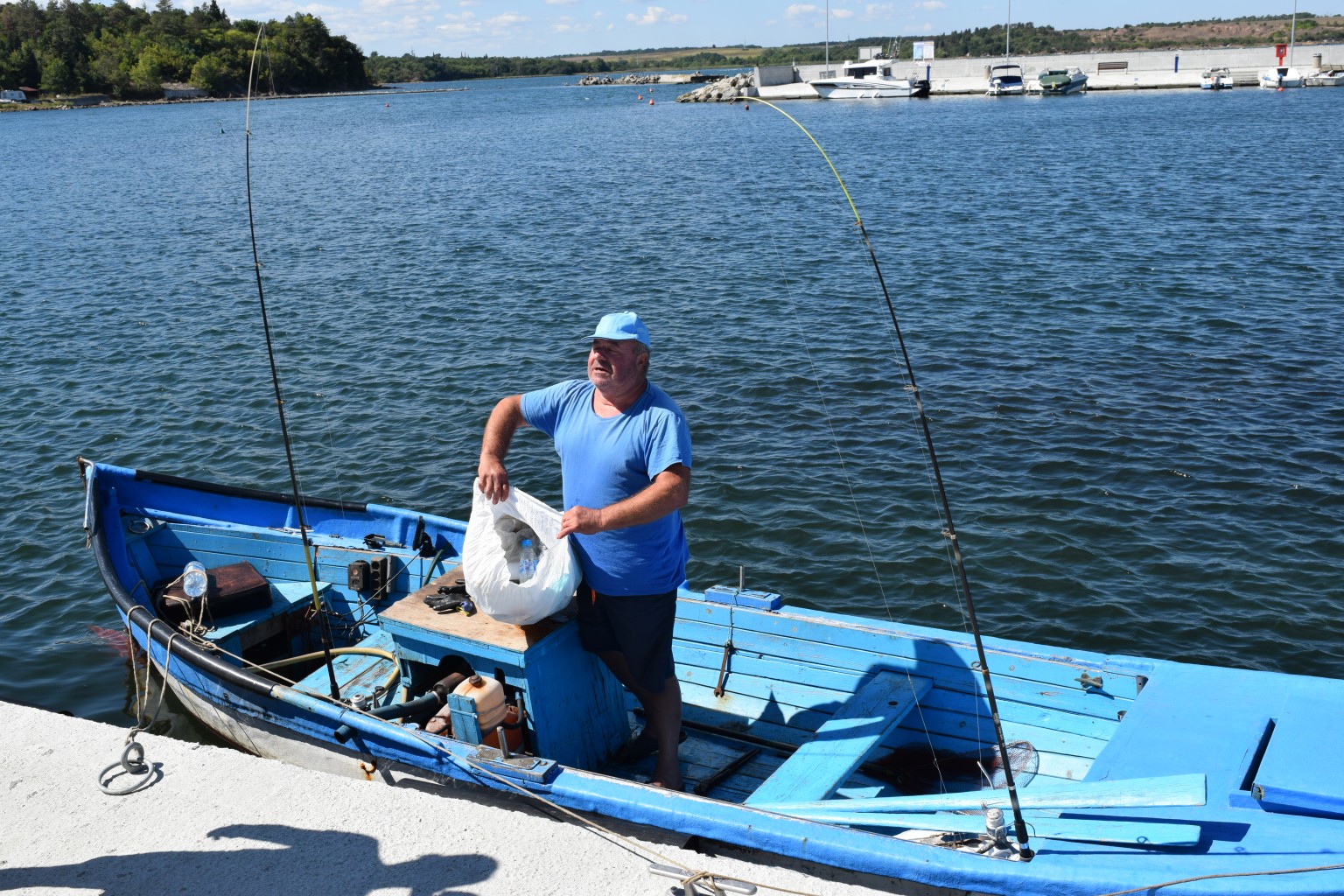 Other clean-up initiatives?
There is the initiative for cleaning seabed waste. Divers from the Friends of the Sea NGO carried out two diving campaigns to clean the sea bottom. This initiative taps into the experience of Norway where a waste disposal project was carried out with the help of divers who collect waste from the bottom of the Akerselva River. Extracted waste was weighed, then displayed in public and accessible places by the sea. After which it was handed over for processing or disposal.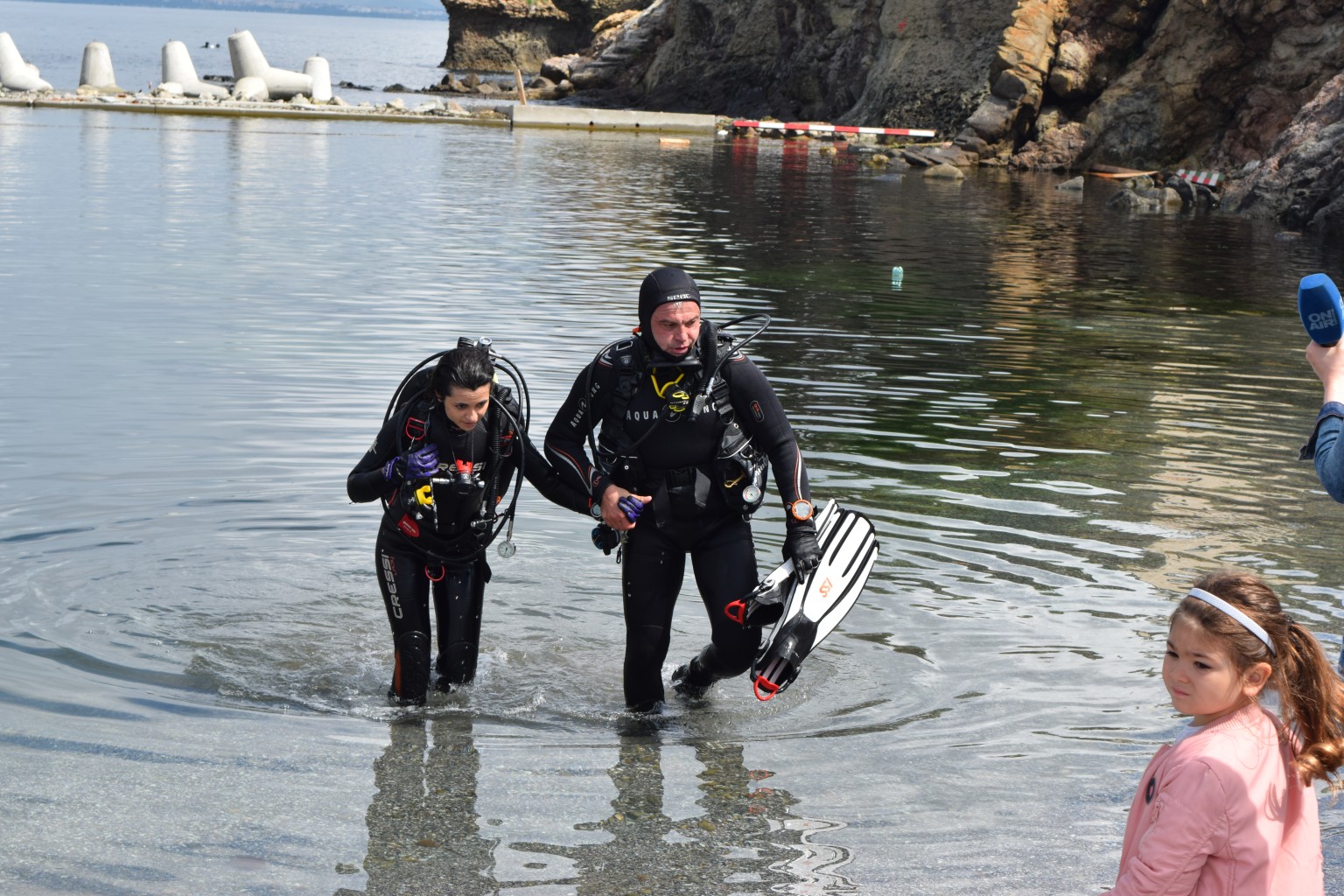 Maya Ruseva grew up and spent her "whole conscious life in Burgas." While working with local children on a clean-up expedition, she was moved by how powerful education is. "When we were removing tires and tubes from the seabed, some of them turned out to be full of small crabs and fish. The children gathered at the pier and rushed to bring them back to the sea".  When asked why this is important, she responds, "Preserving the purity of the sea is my personal cause and by personal example I want to pass it on to my children".

Creating partnerships — Working together for a greener Europe
Knowledge exchange and experience is essential for building know-how for assisting the environment and ecosystems. Organisations from the Donor and Beneficiary States are therefore encouraged to cooperate through the EEA and Norway Grants programmes.
The Donor States have competence on integrated marine management, ecosystem management and integrated planning and control. The Norwegian Environment Agency and the Norwegian Water Resources and Energy Directorate are Donor Programme Partners in this area and can assist Norwegian organisations that wish to get involved. Find out more about partnerships here.
Find out more about the cleaning of the Burgas Bay here: https://cleansea-burgas.com/en/news-en/
Read more about the Environmental Protection and Climate Change programme behind the project here: https://www.eeagrants.bg/en/programs/environment-protection