RePower has helped make Alia's training possible and offers support so that she can participate and continue to inspire. The project's educational activities inform refugees with disabilities about Paralympic Sport as a life-improving tool, smoothing integration for refugees with disabilities - on all levels. 
At 20-years old, Alia has become a mentor and inspiration for other athletes. Through her dedication to the RePower project funded by the Active Citizens Fund in Greece, she is determined to encourage 'more refugees and especially women to focus on their strengths and positive thoughts, and put all their energy into accomplishing their dreams instead of losing their motivation due to the difficulties they have faced… to keep fighting for their lives.'
Alia was born in Greece in 2001 into a refugee family that was forced to leave Syria. She was diagnosed with cerebral palsy soon after birth, which left her partially paralysed and impeded her speech. But on 24 August 2021, she entered the Tokyo National Olympic Stadium as the flag bearer for the Refugee Paralympic Team. That team represents 'more than 82 million people around the world who have been forced to flee war, persecution, and human rights abuses—12 million of whom live with a disability,' the International Paralympic Committee (IPC) notes.
Alia made history as the first woman to be part of a Refugee Paralympic Team at the Tokyo 2020 Paralympic Games, held in 2021 due to COVID-19 pandemic restrictions. Getting there took not only hard hours of training, but also inclusive support that nourished sports actions for both Greek and refugees with disabilities.
'Watching Alia in Tokyo was extraordinary. With the RePower shirt outside the stadium shouting "RePower - we did it!". It was an amazing feeling. We created a project and we sent to Tokyo the first female member of the Paralympic refugee team ever,' explains one of the organisers behind the RePower project.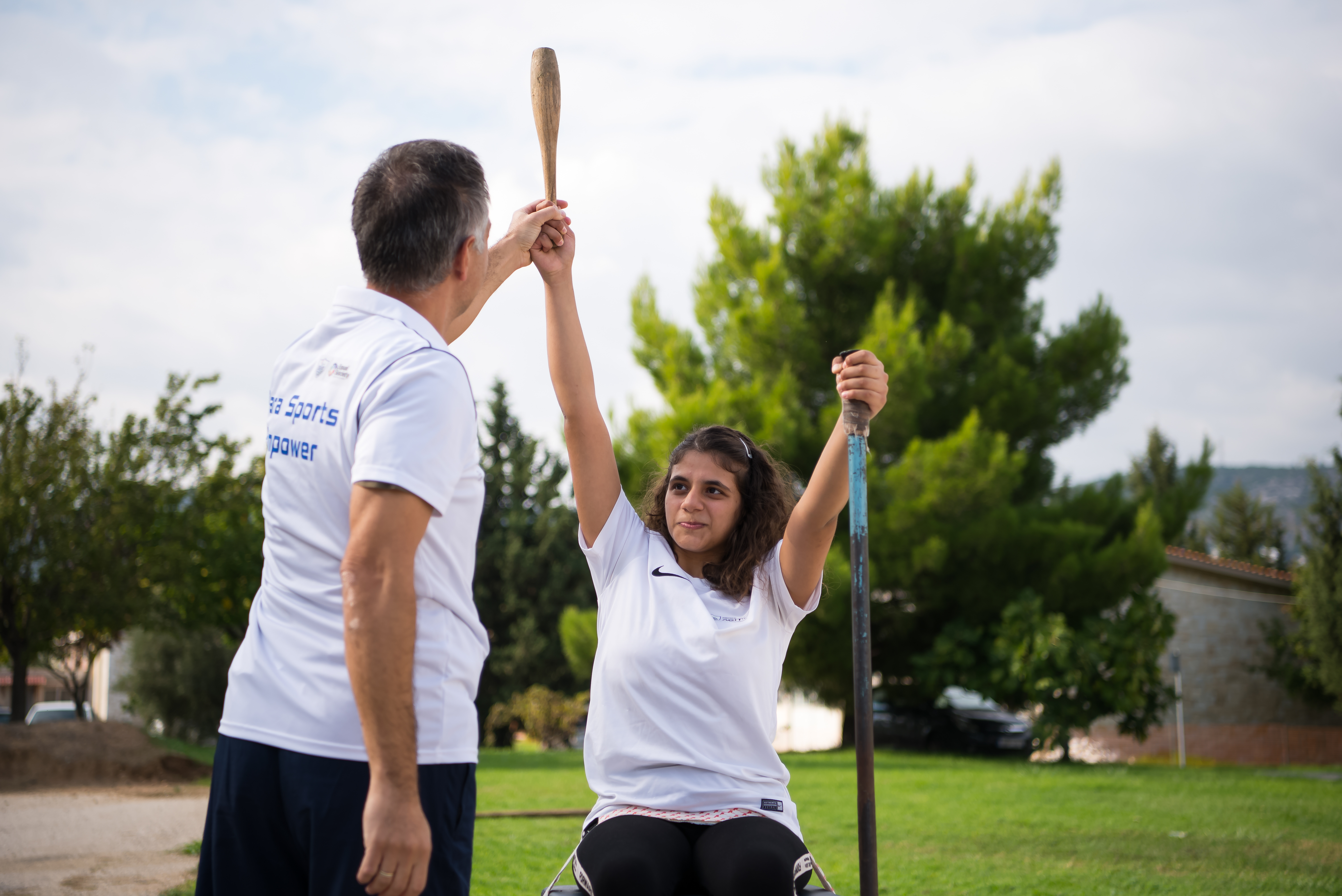 As she answers our questions, Alia is at her residence in Athens, Greece. Though the 2020 Games have ended, she carries forth her determination and passion for the sport by continuing her participation in the RePower project.
You were one of the first women on the Refugee Paralympic Team to show other female refugees how sport can change lives. At 20-years old (and at any age), that is quite a challenge.  What inspired you? How do you encourage others?
Actually, I was the first refugee woman ever to participate in the Paralympic Games, which makes me very proud. I was inspired by my physical education teacher, Michalis Nikopoulos, who encouraged me to participate in sports. I first played boccia and then three years later, I started competing in Para Athletics (race running and club throwing).
You throw, but what other sports do you feel confident in?
Boccia. I have managed to compete in national level competitions in Greece. Boccia is mostly a mind (strategic) game that can be combined with a physically demanding sport such as club throw in Para Athletics.
Would you change sports if you could?
I like trying new things in my life. I do not have any sport right now to be jealous of (that I am longing for), but I certainly do not exclude the possibility in the future. Now I am focusing on club throw. I want to become a great athlete in this event, and to get a medal in international games.
How many more competitions (national and international) do you want to compete in? You are quite young, but athletes have shorter careers than other professions.
I am only 20 years old. I cannot set time limits on my sports career right now. Para sports in general can keep athletes for a longer time than Olympic Sports since many of the athletes start their career at a later age especially those with acquired disabilities during their life.
When your athletic career is done, what are you aiming to do? Any particular interests like coaching or something else? Your father, who you sadly lost when you were 16-years old, encouraged you to pursue a medical career. Any chance of that?
I cannot think at this moment about the end of my athletic career. I feel that I am at the beginning. I want to study. I finish school next year and I want to go to university. I will try to succeed entry to and study in a medical university. I know that this is very difficult, but I will do my best.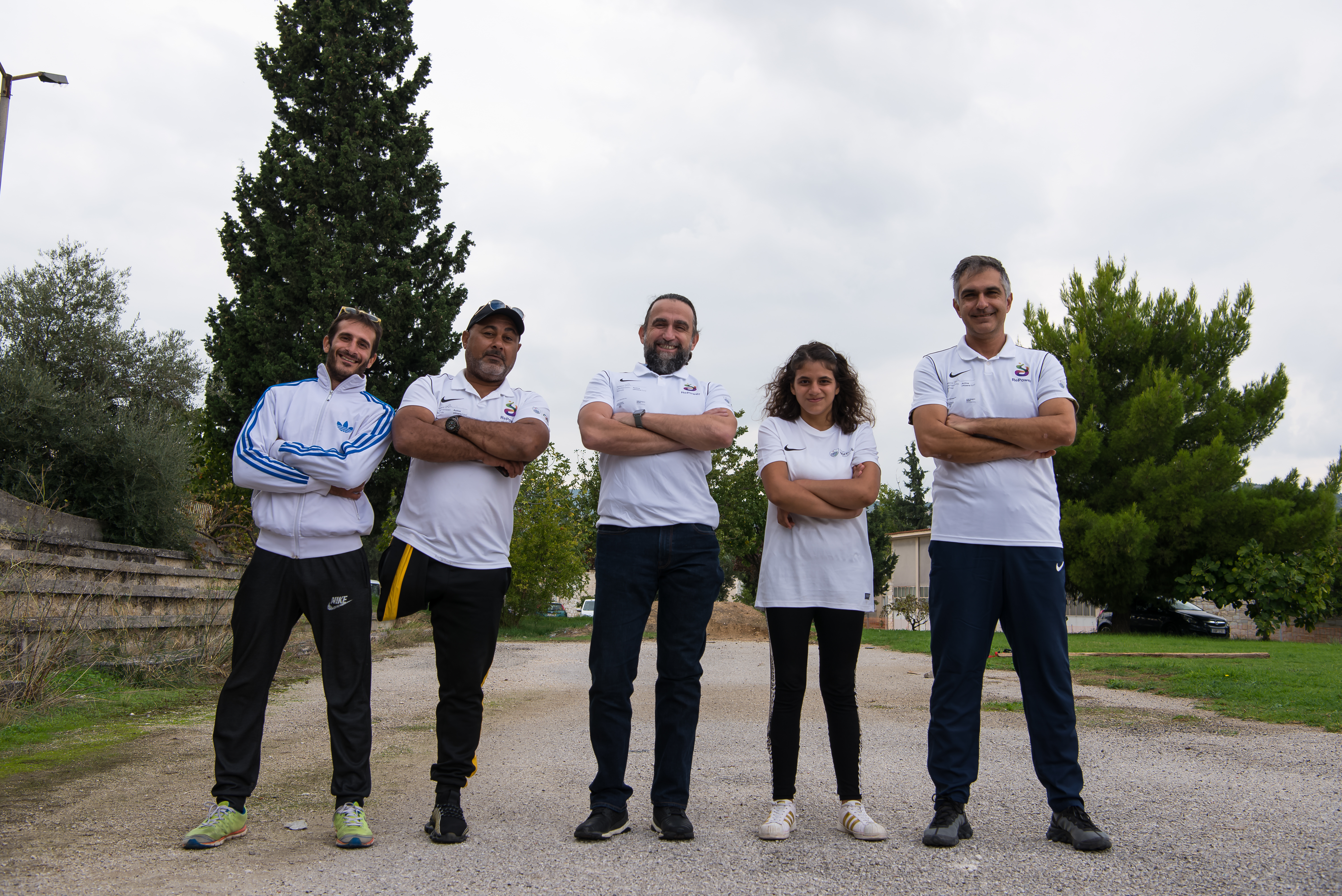 Most athletes have challenges travelling to international competitions (like the Olympics).  How do you work around travel and communication practically speaking? 
I can speak Arabic and Greek fluently which helps me to communicate in Greece and all Arab countries. Usually, I get assistance from my coaches when I travel for competition abroad.
Who is your trainer and coach now? Michalis Nikopoulos was one of the physical education teachers at the high school you attended (the first public school that wasn't for the disabled). You were 16 when he discovered you and took you to his sports club, the Tyrtaios Sports Club for the disabled. What do you think he saw in you as an athlete that drew his attention?
Yes, Mr. Nikopoulos was my first coach and he inspired me a lot. He told me that I was very talented in sports and asked me to try sports. Now, together with my personal coach Dionisis Koumparis, we all work hard together to be prepared for my next year's competitions.
What makes you stand out?
I actually don't know! I think that I am very persistent and work hard to achieve success.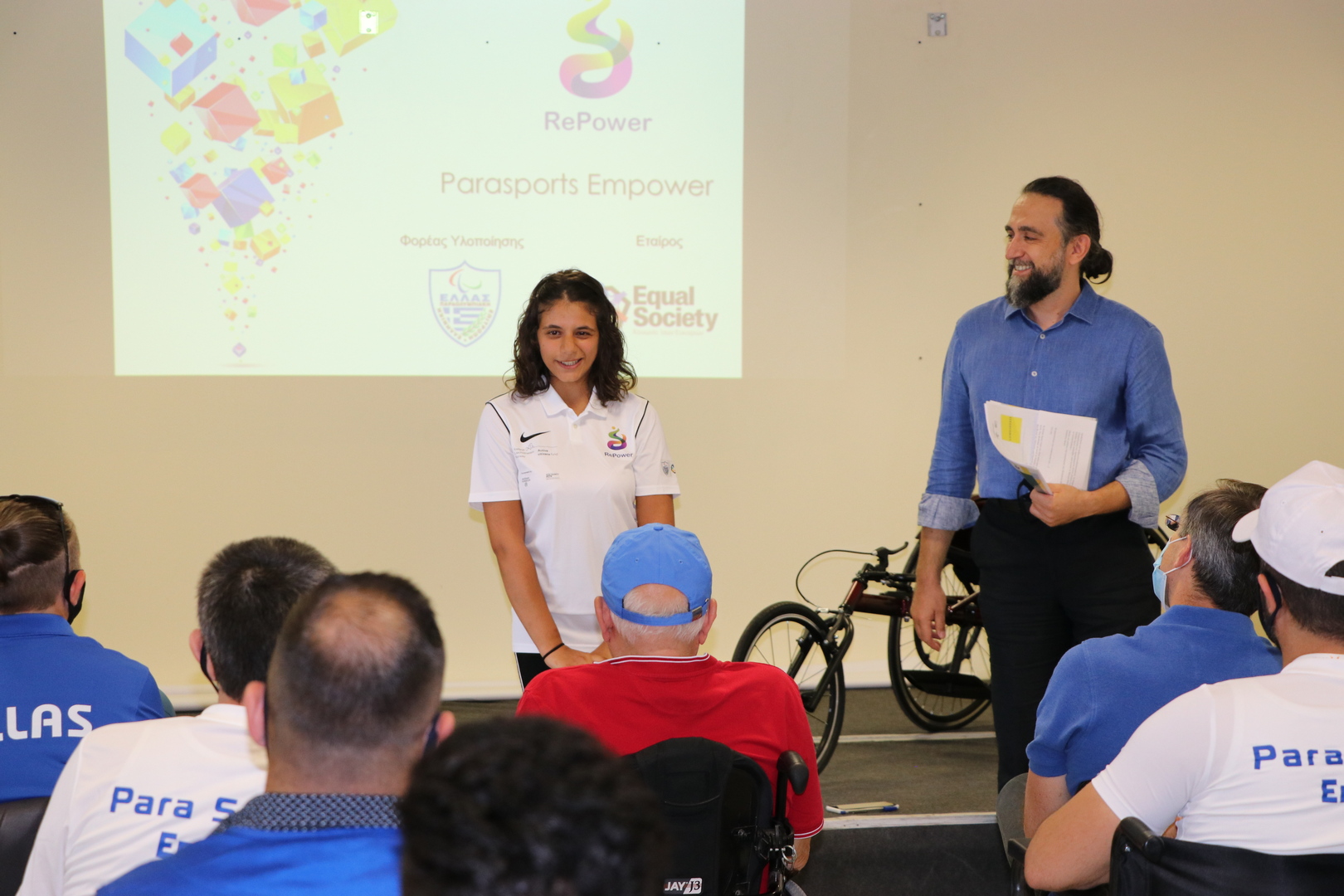 How important is it to have sponsors?
This is very important. It would be amazing to have financial support, to cover my expenses. I need to pay for taxis, for my transportation to the training field… this is too hard for my family to afford. Thankfully through the RePower project funded by the Active Citizens Fund in Greece right now we have a solution, but in the future sponsoring could actually help me achieve my goals.
'I am a proud member of the refugee team. I feel this is my second family,' Alia said.
Distance raises no barriers for her athletic skills. And as her father told her, 'Don't worry. Work really hard and you will achieve anything you want.' There is no debating that she is doing just that. 
The RePower project is funded by the Active Citizens Fund which supports civil society by strengthening its role in promoting democratic participation, active citizenship and protecting human rights. In several of the Beneficiary States, the EEA Grants is one of the most important contributors to civil society. Find out more about how we support civil society.
Find out more about the Active Citizens Fund in Greece.
Curious to know what programmes we fund in Greece? Find out more.