Human rights and civil society
Launched in 2019, The Active Citizens Fund Estonia is the only major non-governmental programme that funds Estonian NGOs. The fund targets organisations that promote and protect European values and stand up for human rights, equal treatment, participatory democracy, and freedom.
The annual Opinion Festivals brings together hundreds of NGOs, tens of thousands of people and hundreds of young people in knowledge-based and cultural public debate. By working together inclusively and innovatively, the festival organisers aim to help participants develop a better understanding of themselves, one another, and the world around them. Active Citizens Fund co-financed the event with a grant of EUR 60 000.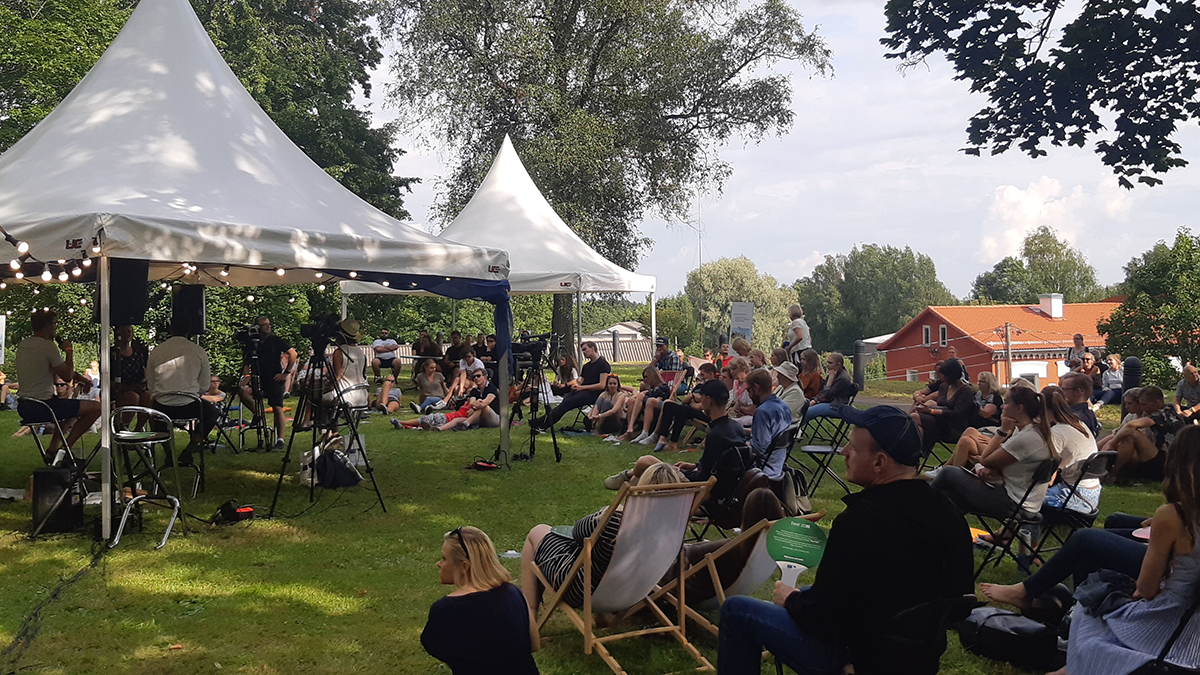 Katrin Enno, the programme manager at the Open Estonia Foundation – the fund operator for ACF in Estonia, does not have any doubts about the value the Fund has for Estonian civic space. "Grants from Norway and the European Economic Area are characterized by good strategic thinking, which means prioritizing long-term societal change. We are happy when we have a new generation that can and wants to work together both locally and internationally," says Enno. "All applicants are encouraged to partner with Norwegian, as well as Icelandic or Liechtenstein associations. The associations in the Donor States also have very strong experience in promoting environmental issues, which are becoming more and more important both in us and in the world. They can help applicants find partners in Norway to carry out projects, exchange experiences and learn from". 
Industry
In the current funding period, Green ICT companies from Estonia can get a financial boost and find new business partners with the help from the EEA and Norway Grants. 
"Estonian-Norwegian co-operation has a long history in very different fields, and co-operation between entrepreneurs is no exception," says Tanel Tomson, Head of External Co-operation at the Ministry of Economic Affairs and Communications, adding that Norwegian grants statistics confirm that business interest in support measures is growing.
"Even if some Estonian companies manage to take a step forward in developing a competitive product or service, there is a need for new contacts and partners with whom to conquer new markets. New and unknown markets do not wait for our entrepreneurs with open arms, so it is good if a partner who knows the peculiarities of the local market can help," he explains.
A good example of the effects of economic co-operation between Estonia and Norway is a company Roofit Solar Energy OÜ, which has had two of their projects funded under the the Green ICT program. 
In Estonia, a roof with a capacity of 10 kW helps to prevent the emission of 300 tons of CO 2 into the atmosphere by producing electricity from solar energy. This is equivalent to driving a car around the globe 78 times. The Estonian company is working together with the Norwegian Søran AS to make solar roofs more affordable and accessible in Estonia, and around the world. They are producing an innovative two-in-one product: a metal roof that acts as a solar panel. It looks like a traditional steel roof and is electrically as powerful as conventional solar panels.
Public health
The Ministry of Social Affairs has recently launched a call for proposals for projects to improve home safety and promote the well-being and safety of young children. The application round is run by the National Support Services Center and is funded by the Norway Grants.
"Targeted contributions to people's well-being, health, children and education will lead to a healthier and more economically successful society in the long run. Therefore, it is important put your heart in such cooperation projects," say Triinu Täht and Kristo Kleemann from the Department of Public Health of the Ministry of Social Affairs.
Culture
A big pillar of the EEA and Norway Grants support in Estonia is the Baltic Research Program. For example, last year, the funding helped launch "Inclusive Places and Journeys: Shared Stories and Creation of Meaning". The project explores the local traditions of Estonia, Latvia, Lithuania and Norway. Although local tradition has been collected and researched in all these countries, according to project manager Ülo Valgu, such comparative research has never been done before.
The EEA and Norway Grants have been supporting research cooperation since 2004. Ten cooperation projects were supported in the period 2004–2009, thirteen in the period 2009–2014 and seven in the current funding period. Additional ten higher education cooperation projects are being supported in the current period. The funding aims to cover a wide range of topics, from language and culture to medicine.
To find out more about our programmes in Estonia, visit https://eeagrants.fin.ee/en.