Estonia is home to well over 1 000 manor houses which once belonged to the Polish, German and Russian nobility. Following a land reform in 1919, all of these magnificent buildings were nationalised by the state. While many fell into disrepair over the decades, in 1991 around 300 were designated for conversion into rural schools. In 2001, the Estonian government embarked upon a long-term renovation programme of the remaining 65 schools. While protecting valuable cultural heritage and improving educational facilities on the one hand, the restoration works have also helped generate employment for contractors and construction workers in the local area.  
New life for old buildings
Co-financing from the €4.5 million EEA Grants cultural heritage programme - in which the Norwegian Directorate of Cultural Heritage is a partner - has aided the restoration of 15 manor schools so far. Aruküla Manor in the municipality of Koeru is the most recent to re-open its doors to students. Norwegian Ambassador in Estonia, Dagfinn Sørli, was present at the opening which coincided with the start of the new school term. He saw at first-hand how the contribution from Iceland, Liechtenstein and Norway is helping preserve local heritage and breathe new life into old buildings through conversion to schools and community centres.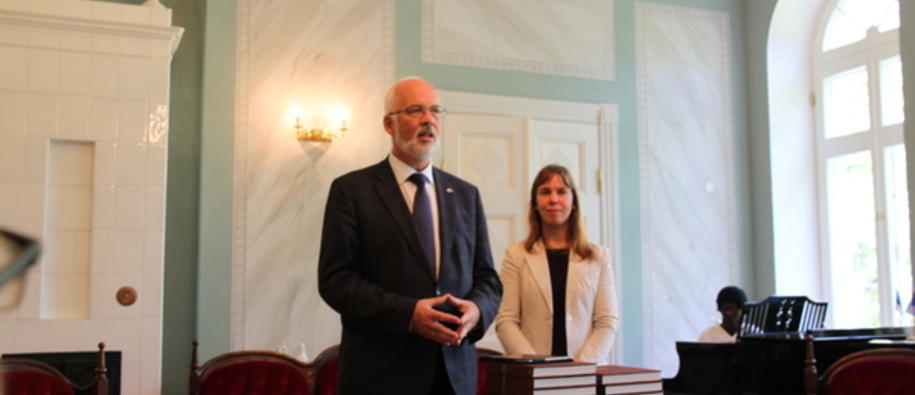 Aruküla Manor itself has a long history. Built by Frommhold Gotthard von Knorring, the main building dates back to 1789. However, after tragedy hit the family, it was bought in 1820 by Lieutenant-General Karl von Toll (referenced in Leo Tolstoy's War and Peace). The von Toll family maintained the manor until its nationalisation in 1919.
Since 1920 the manor has been a school for the local village. The restoration has remained true to the original architecture while bringing the educational facilities up-to-date. The building can now serve the local community better than ever before, beyond just a school but also as a cultural venue, tourist attraction and community centre. The pupils have already been enjoying their new facilities. Enjoy a short video made by some of them showcasing the beautiful interiors while having some fun at the same time!