Norway has one of the lowest rates of reoffending in the world – prisoners in Norway must take responsibility for their past actions, but it is in everyone's interest that offenders are helped to reintegrate into society when their sentences come to an end.
There are many factors that contribute to Norway's success in reducing reoffending. Some of these lessons are being shared with other countries, with support from the Norway Grants. In Poland, the Directorate of Norwegian Correctional Services (KSF) is working in partnership with the Polish Central Board of Correctional Services, to improve the way prisons are run. One project brings together different aspects of rehabilitation, from making sure that prisoners maintain links with their family, to ensuring that they acquire new skills that will help them to find work once they leave prison. No less important are the skills needed to deal with anger, stress, fear and other negative emotions; emotions that were often the root cause of the original offence.
Family bonds
Maintaining close family bonds while in prison is not easy, particularly for those who are parents. Through the Norway Grants, the project is adapting more than 150 rooms and facilities to make the prisons friendlier for children – these improvements make a huge difference to a child, who can see their parent in a more 'normal' environment.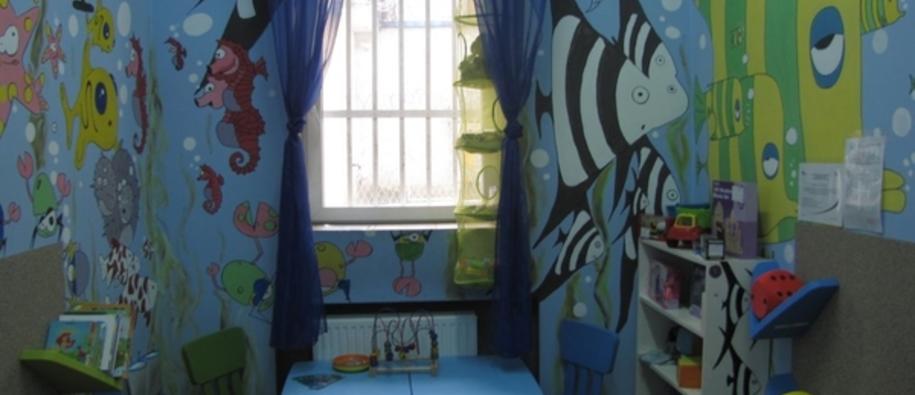 By ensuring that family bonds are maintained during imprisonment, life after prison is easier to adjust to and the incentive to stay out of prison stronger.
Dog therapy
Contact with animals has been found to have a positive impact on mental health, in particular in improving emotional and social reactions. The prisoners are taught how to look after dogs, including obedience training, exercising and agility training. The positive relationship that develops reaps rewards not just for the dogs, who are tamed and can find new homes, but also for the prisoners, who regain confidence in themselves.
Maciej Bujny, from OTOZ Animals, a charity that provides shelters to homeless animals, explains in the video below that the prisoners have to work with some of the most difficult dogs, dogs who were beaten, those you cannot take for a walk and that need to be retrained. In the words of Maciej, in the prison "the dogs regain faith in themselves and the prisoners in themselves".
The film was produced by Polish television company WP TV 
Vocational skills
The Norway Grants are supporting more than 900 prisoners to develop new skills and also follow complementary training in self-esteem and anger management, as well as basic IT skills. A particular emphasis has been placed on training in environmental-management skills that include woodcutting, sawing and green-area maintenance. In certain areas, the prisons are working in partnership with the Forest Inspectorate and the National Water Management Authority, allowing prisoners to have real work experience.
In the words of Aleksandra: "We wouldn't have been able to do this without the support of Norway Grants."
Read more about the Polish programme for correctional services, including non-custodial sanctions